Vision Correction Specialist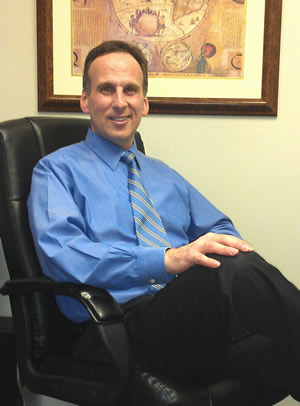 Dr. Richard S. Kalski's experience and training makes him uniquely qualified to be a Laser Cataract and LASIK Surgery Specialist.  In addition to his prestigious credentials, Dr. Kalski practices medicine in a manner uncommon in today's health care environment.  He provides boutique individual and personalized care in the spirit of yesterday with the most advanced technologies of today.  He has been in private practice in South Florida since 1996.
Education and Training
Dr. Kalski received his Bachelor of Arts degree with general honors from the College and honors in the Biological Sciences from the University of Chicago in 1985.  He acquired his Doctorate of Medicine degree from Case Western Reserve University (CWRU) in Cleveland, Ohio, in 1990.  While studying for his medical degree at CWRU, Dr. Kalski also completed a year of research in Ophthalmology.  He financed both his undergraduate and medical educations with academic scholarships and part-time to full-time work.  He continued with his Ophthalmology training and research endeavors at CWRU, where he completed his residency in 1994.  Dr. Kalski then traveled to Sydney, Australia, where he obtained his Corneal and Refractive Surgery Fellowship at the Sydney Refractive Surgery Centre (now the Vision Eye Institute) in 1995.  In 1998, Dr. Kalski furthered his education in the field of refractive surgery by commuting to The International Center for Refractive Surgery in Providenciales, Turks and Caicos, while working as an ophthalmologist in Miami.  His research accomplishments include numerous publications, abstracts, and presentations, mostly in the field of laser vision correction and cataract surgery.
Accomplishments
As a Refractive Surgeon always on the cutting edge of technology, Dr. Kalski began performing LASIK and PRK in Australia prior to these procedures being approved in the US.  He has performed thousands of these procedures since 1995.  Dr. Kalski is currently offering the most technologically advanced, bladeless, custom laser vision correction procedures to his patients.
Dr. Kalski is also experienced in doing no injection, sutureless, cataract and Refractive Lens Exchange (RLE) surgeries.  He uses advanced technology intraocular lenses (IOLs) that correct vision at all distances, including far, intermediate, and near, as well as advanced technology IOLs that correct astigmatism.  He is currently one of the first and only surgeons in South Florida performing Custom Laser Cataract Surgery.  By combining advanced technology IOLs with the laser for cataract and RLE surgeries, Dr. Kalski is able to customize these surgeries to fulfill patients' visual needs by reducing their dependence on glasses and contact lenses. 
Dr. Kalski has received many prestigious awards, including the "Lifelong Education for the Ophthalmologist" Continuing Education Award from the American Academy of Ophthalmology and the "Physician's Education Award in Continuing Education" from the American Medical Association.  Dr. Kalski was named a VISX "Star Surgeon," placing him in the top 5% of surgeons nationwide for laser vision correction.  Dr. Kalski has given multiple presentations to his peers and personnel in eye related fields on various topics in Ophthalmology.  These presentations have occurred worldwide, including in the United States, Australia, Great Britain, and Vietnam.  He also served as the Medical Monitor for the US FDA clinical study on Laser Presbyopia (Reading) Reversal using the SurgiLight OptiVision Laser.
Memberships
Dr. Kalski is Board Certified by the American Board of Ophthalmology.  He is a member of the American Academy of Ophthalmology, American Society of Cataract and Refractive Surgery, and International Society of Refractive